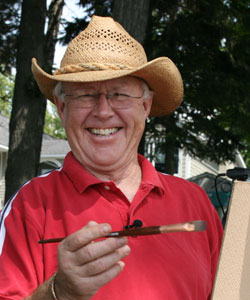 After airing three seasons of the nationally syndicated television show Your Brush with Nature on PBS and Create TV, Heiner Hertling wanted to do something special for his fellow painters. He wanted a way to reach all the wonderful artists and people he meets throughout his painting excursions and workshops, and allow them to access his content. This website, yourbrushwithnature.com will allow Heiner to share his love of the arts though lessons and videos in the comfort of your own location whenever you please.
We are delighted to announce that along with access to select episodes from the first, second and third seasons of the PBS television show Your Brush with Nature, the complete fourth season will premiere in high definition here on yourbrushwithnautre.com, for all subscribers as "Full Access Explorers". Here you will see extended episodes, that take you to stunning locations from the Rocky Mountains in Wyoming, to snowy rivers with wildlife clinging to the last bits of un-frozen water, to warm summer skies sprouting rich green foliage, to the beautiful fall colors and skies of the mid-west. New this season, Heiner will showcase artwork from viewers giving you feedback and recognition on the show and website. In addition, he will frequently add updates and provide exclusive content not available anywhere else.
Here's a glimpse at Your Brush with Nature Season 4. To watch a full episode for free, create an account as a free user. To view in high definition and full screen, click the controls on the right side of the player.